Hot Smoked Salmon and Mango Salad
Hot Smoked Salmon and Mango Salad is a simple refreshing starter that is perfect for any time of year. A tantalizing, tropical fusion salad integrating salmon with mango which is rich in omega-3-fats too!
Hot Smoked Salmon and Mango Salad
Ingredients:
1 tablespoon Soy sauce
2 tablespoon Orange juice
115 g/4 oz Assorted salad leaves
115g/4 oz Sun gold or red cherry tomatoes
85 g/3 oz Salmon fillets, skinned and cut into small cubes
6 Spring onions, trimmed and chopped
1/2 Cucumber, trimmed and sliced into batons
1 Large ripe mango, cut into small chunks
For the dressing:
1 teaspoon Soy sauce
4 tablespoon Low fat natural yogurt
1 tablespoon Finely grated orange rind
Procedure:
Soak 4 wooden skewers in a bowl of cold water for 30 minutes to prevent them burning during cooking. Cut half the tomatoes in half and set aside.
Thread the salmon with the whole tomatoes and half the mango chunks onto 4 kebab sticks. Mix the orange juice and soy sauce together in a small bowl and brush over the kebabs. Leave to marinate for 15 minutes, brushing with the remaining orange juice mixture at least once more.
Arrange the salad leaves on a serving platter with the reserved halved tomatoes, mango chunks, the cucumber batons and the spring onions.
Preheat the grill to high and line the grill rack with foil. To make the dressing, mix the yogurt, soy sauce and grated orange rind together in a small bowl and reserve.
Place the salmon kebabs on the grill rack, brush again with the marinade and grill for 5-7 minutes, or until the salmon is cooked. Turn the kebabs over halfway through cooking and brush with any remaining marinade.
Divide the prepared salad between 4 plates, top each with a kebab, and then drizzle with the dressing.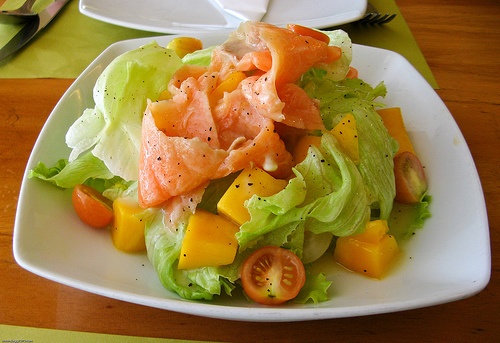 Feel free to pile it up with the salmon on top. Either way, it tastes fabulous.The tropical and tangy topping is a perfect match with smoky fish.