Fish Roulades with Rice and Spinach
This pretty dish is a delightfully tasty treat for fresh fish lovers. The flavors of the roulade, combined with rice and spinach pleasingly stimulate your taste buds for an exciting dining experience.
Fish Roulades with Rice and Spinach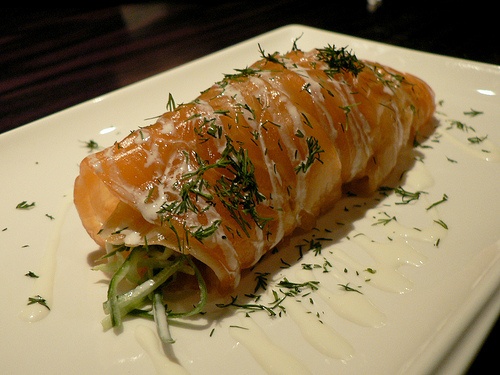 Ingredients:
1 teaspoon Fennel seeds
5 tablespoon Dry white wine
5 tablespoon Half-fat creme Fraiche
2 tablespoon Freshly chopped parsley, plus extra to garnish
4 x 175 g/6 oz Lemon sole, skinned
75 g/3 oz Long-grain rice, cooked
150 g/5 oz White crab meat, fresh or canned
125 g/4 oz Baby spinach, washed and trimmed
Salt and freshly ground black pepper
Asparagus spears, to serve
Procedure:
Wipe each fish fillet with either a clean damp cloth or kitchen paper. Place on a chopping board, skinned side up and season lightly with salt and black pepper.
Place the fennel seeds in a pestle and mortar and crush lightly. Transfer to a small bowl and stir in the cooked rice. Drain the crab meat thoroughly. Add to the rice mixture and mix lightly.
Lay 2 to 3 spinach leaves over each fillet and top with a quarter of the crab meat mixture. Roll up and secure with a cocktail stick if necessary. Place into a large pan and pour over the wine. Cover and cook on a medium heat for 5 to 7 minutes or until cooked.
Remove the fish from the cooking liquor, and transfer to a serving plate and keep warm. Stir the creme fraiche into the cooking liquor and season to taste. Heat for 3 minutes, then stir in the chopped parsley.
Spoon the sauce on to the base of a plate. Cut each roulade into slices and arrange on top of the sauce. Serve with freshly cooked asparagus spears.
This is absolutely my most favorite gourmet fish dish – it looks beautiful, yet is simplicity itself to prepare! You can serve it hot or cold with vegetables or salad.