Tilton Market Basket Store #59 (Tilton NH)
29 East Main St, Tilton NH 03276
Tilton Market Basket Phone: 603-286-2047
Store Hours: Monday thru Saturday: 7AM – 9PM, Sundays 7AM-7PM
Tilton Market Basket Circular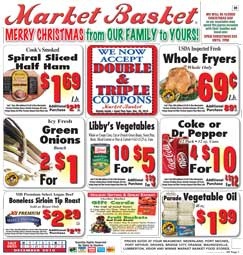 Please use the phone number above and call Tilton Market Basket Store. Ask for their ad circulars to be mailed to your home.
Reviews of Tilton Market Basket grocery store from around the web:
Posted on Google.com Nov 14, 2010

M Garrison I am GREATLY pleased with your store. I live in Williamsburg, Va and come all the way to your Tilton store for the best deals, great prices, excellent selection and helpful, friendly associates for all my needs in a super market. I have even brought some ideas to the supermarkets here in Williamsburg. Thank-you for having and EXCELLENT… Market Basket !!!!!!! M Garrison
Posted on Google.com Nov 12, 2010

Thanks Mike in the fish dept We love this supermarket and Mike was very helpful today. I bought 4 complete salmon fillets and he took care to give me two ice packs to keep it fresh while I drove home. Thanks Mike!
Posted on Google.com Aug 17, 2008

Best Store in area If you haven't been yet, definitely check it out. Its a clean store that is always well stocked. and unlike other stores when its busy they open up all 14 checkouts. If you have big orders they will help you carry it out to your car and one time they even unloaded it! also they are cheap!!!!!