Stratham Market Basket Store #26 (Stratham NH)
27 Portsmouth Ave, Stratham NH 03885
Stratham Market Basket Phone: 603-772-2952
Store Hours: Monday thru Saturday: 7AM – 9PM, Sundays 7AM-7PM
Stratham Market Basket Circular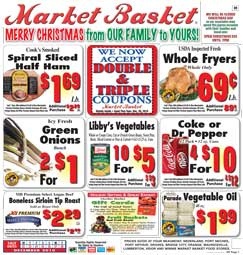 Please use the phone number above and call Stratham Market Basket Store. Ask for their ad circulars to be mailed to your home.
Reviews of Stratham Market Basket grocery store from around the web:
Posted on Local.yahoo.com by spree – 12/14/2010

that's the wrong website they have posted there… plus i love this place even though it is small i can't wait until they redo it
Posted on Local.yahoo.com by Timothy Mueller – 11/06/2010

market basket has always been my top choice for a local grocery store. everything's always easy to find and the people are fantastic. i have to say i disagree with the previous review, the employee in question has always been very polite &helpful whenever I shop here on Sundays, in fact I seek her out if I have questions. i only remember her because she has been so helpful in the past. all departments in the store are staffed by pleasant people and I always find the items I'm looking for. I wouldn't do my grocery shopping anywhere else.I hope market basket continues to stay in business amidst the competition from the other big grocery chains, because I'd hate to have to shop somewhere else!